The Pool Table Movers SOLO® in Tucson knows that the essential aspect of a professional billiard table move is the setup of it. For this reason, we can assure you that our billiard table movers are your best option. We are qualified in all types of pool table repairs and can offer the best possible service. We are also the only company in the area with the backing of the American Billiard Installers Association in writing with a 1-year service guarantee.
Pool Table Movers SOLO® of Tucson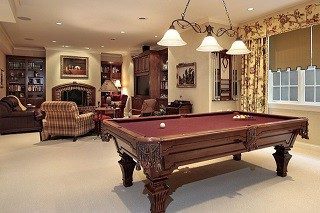 Moving your pool table with The SOLO® Pool Table Movers in Tucson includes professional tear down, safe transportation and expert pool table setup with exact leveling. We can also recover your table at the time of installation. We handle everything from start to finish.
We provide pool table refelting labor services and repairs also in Vail, Sahuarita, Three Points, Marana, Oro Valley, Flowing Wells, Casas Adobes, Green Valley, Eloy, Sierra Vista, Nogales, Florence, Coolidge, Casa Grande, Polo Village, Polvo, Craycroft, El Rio, and surrounding areas.
Visit our classifieds section and find the perfect pool table for you, in there you can find local pool tables for sale.
Tucson Pool Table Installers SOLO® can recover your pool table as well with new material if you desire for an additional cost. Guaranteed satisfaction and leveling on applicable pool tables. We offer professional pool table moves either from a residence to a residence to a business location or vice versa.
Our Pool Table Installers are backed by a National Organization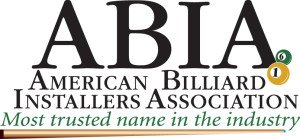 The American Billiard Installers Association is the only national organization that regulates the service standards in the industry and we are the only company in the area authorized to issue a document backed by said organization.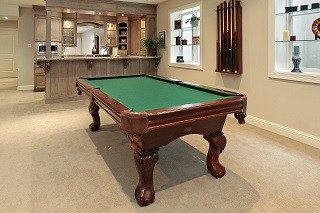 Rest assured your pool table refelting, installation, move or repair service will be taken care of by professional pool table installers that have your satisfaction as their main goal. Complete pool table moves have to be handled following a methodical process for the pool table assembly and the disassembly.
We can salvage the existing cloth in most cases if it is in good condition. however, the majority of customers choose to have the pool table recovering job with new felt at the time of installation.
We use the right tools and apply the proper techniques making the billiard table perfectly level. Be careful of people who are cheap and claim a lot of experience, this in itself is a red flag and if you are a conscious consumer you should consider using a company backed by the only organization representing the billiard installation and service industry.
Yes, Our Pool Table Installers Can Refelt Your Table at the Time of Assembly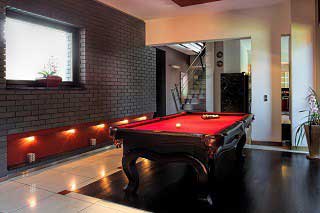 We offer different options of billiard felt in several colors to match your decorative needs. When we complete your pool table recovering service, you can rest assured you will enjoy the best playing experience on your table.
All you have to do is decide whether you want to go with Standard felt or tournament worsted material which gives you a sleek playing surface for a faster game.
If you're a passionate player you want your billiard investment to play to its maximum potential, go with the pro tournament felt!
Our customers can choose from over 30 different colors of pool table felt. We use the highest quality pool table cloth the industry has to offer at this time.

Members of the ABIA, the only company in Tucson Arizona to offer you an exclusive 1-year service guarantee IN WRITING and issued by the American Billiard Installers Association. This guarantee backs our workmanship and felt provided for the service.
We strongly advise you to go over this pool table and game room sizes guide to make sure your game room is adequate to fit the pool table and allow you to actually play the game.
We will come into your house and remove the existing felt from your table, replacing it with the residential grade. We will also double check your pool table to see if it is level or not, if it isn't we will correct it. Other brands of felt are available such as Simonis.
Pool Table Installers SOLO® are Qualified In All Types of Billiard Table Services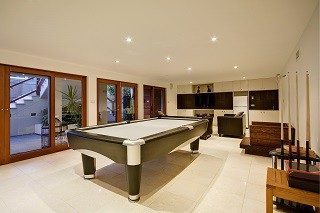 We handle pool table services and repairs on a daily basis. We specialize in handling 3 piece slate furniture-style pool tables. We warrant a perfectly flat playing surface on your table for a whole year.
We use your existing cloth if you are happy with it. Guaranteed satisfaction and leveling on applicable pool tables.
Complete Pool Table Moves
We move pool tables from start to finish. This includes disassembly, transportation, and professional installation. The pool table moves from residence to residence and to/from businesses also.  We are well trained in our area of expertise.
Pool Table Repairs
Have a little problem with your pool table? From pool table repair and replacement to dead rubber on the rails we have you covered.
Moves to Storage
If you need carpet laid do not try to move your pool table! Let us handle that 800 pound monster for you. Taking the table out of storage? We can professionally install the pool table for you.
Our professional pool table installers work with standard woolen pool table cloth and tournament grade worsted materials as well.